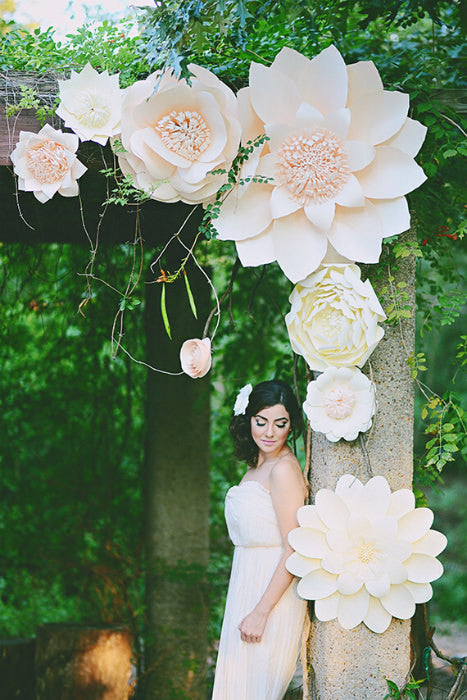 Did you know:
Weddings in the US alone average out around $26,500?
It's hard to imagine how people can spend that much on one event but with catering, an event space, flowers, and creating a romantic atmosphere, it's actually more difficult to keep it under $26k. Thankfully, there are some shortcuts to-be brides (with help from friends) can take that can contribute to cutting costs. Table Paper can help!
This blog post (along with a few others coming up) are dedicated to creating paper-produced decorations that are easy on the wallet, mostly easy to replicate, and have quick clean up once the day is over and done with.
Without further "I do," the list:


1. Oak Leaf Garland 

(Via House & Home)
This garland is classic, versatile, and fairly easy to make. With this PDF, you get the cut out template and directions on how to create the perfect garland for staircases, backdrop on food tables, or even hanging decor for the ceremony. 



2. Flower Banner
(Pocket Full of Posies)
Though we only offer brown & white paper, this flower banner would be beautifully bridal using white leaves & white flowers. The tutorial can be found
here.
3. Giant Flowers

(Photo from Chanel fashion show/ Pattern from AvantiMorochaDIY)
A flower wall for a ceremony backdrop is a beautiful, photograph-friendly idea when the time comes for vows. You can even put some fairy/white string lights behind it to give it a romantic glow. Plus, Chanel did it in their bridal show so you know it's awesome. For just $20, get the pattern here and grab a roll of our paper!
4. Personalized Table Runner
(Taken from Style Me Pretty, Photographed by Laura Nelson)
Though we don't have a tutorial for this one, the idea is pretty straight forward. With a white craft pen and brown table paper, this is a beautiful way to customize the head table. With some flowers on top, it lends itself to a gorgeous, easy to create addition to wedding decor.
5. Hanging Wisteria
(Catching Color Flies)
If you've seen weddings with wisteria, you've mostly likely uttered some kind of "woah," or "what?!" or even "how could they afford it?!" When you start talking about adding crazy amounts of floral bundles, your costs go through the roof! But, of course, some lovely and genius person has figured out how to make paper wisteria and it's beautiful. Especially since you could go for monochrome in white! Check out this how-to
Youtube video
&
tutorial.
6. Updated Paper Lanterns
(Glue arts)
Paper lanterns are a low-cost option for event decor, but why not add some spice and giant/little flowers on your paper lanterns? In this tutorial, add some personality to your paper lanterns with this
quick tutorial.
7. Photo Booth Backdrop
 
(Via Pinterest)
The premise behind this idea is fairly simple. Take the tutorial from #3 & put it on a faux wall for the perfect photo backdrop. Black and red curtain backdrops are boring and everyone does them. Why not add this special element to your special day? Just glue (E3000 or another strong adhesive) the flowers to the backdrop and wah-lah!




8. Hanging Flower Installment

(Via Pinterest)
Need a super cool, super unique hanging piece for your wedding? Look no further than this super easy, hanging faux-chandelier. With some simple string lights, fishing wire, a large ring, and a few of your oversized paper flower, you have yourself the makings of a beautiful chandelier! 
9. Paper Chandelier

(Via Apartment Therapy)
Not much of a flowers person? Well we've got this super easy chandelier that can be made as big or as small as you want. You just need strips of paper, some fishing line (or hanging wire), and some rings. Add white strips instead of colorful and you've got yourself a wedding-worthy piece of decor. Find the tutorial here.



10. Multi-purpose Snowflakes

(Via Oh Happy Day)
If you're getting married in the winter time, why not utilize the idea? Snowflakes are beautiful and can contribute a lot of winter personality into your wedding. Whether the snowflakes are huge like in the picture above, or you want to make them small for hanging purposes, we've found several resources:
- Large snowflake tutorial here
- 3D medallion snowflakes (for string decor)
- Martha Stewart's guide to the perfect snowflake

Don't forget-- these can be used as festive table runners, or paired with hanging twinkle lights, or even hung as backdrop walls. The possibilities are fun and creative and potentially endless!
Thank you to all the creatives out there who have produced these excellent ideas! With just a few additional materials and paper from Table Paper, wedding decor is something you can scratch off the list as "too expensive." If you need custom orders, please let us know!
Featured photo by Elisheva Golani
January 31, 2017
Ken Hamilton